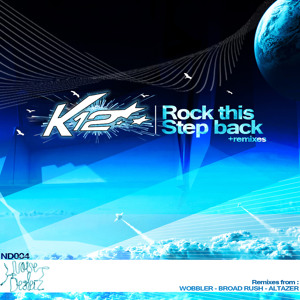 The
Noise Dealerz
nous font un résumé parfait, je vous laisse lire ça et apprécier.
"K12, habitué des charts beatport avec ses productions dubstep et moombah nous
gratifie aujourd'hui d'un nouvel EP electro-house centré autour de deux morceaux
"Rock This" et "Step Back" complété par une série de remix assurés par THE WOBBLER, BROAD RUSH et ALTAZER.

"Rock This" donne le mot d'ordre et démarre l'ep en trombe avec wobble et bassline saturé, "Step Back", sur la même lignée résolument dancefloor, assure la continuité de la release.

THE WOBBLER en restant sur les 130 BPM de "Rock This", livre une version plus mélodique résolument dans la tendance électro-house actuelle, BROAD RUSH de son côté ramène le tempo à 110BPM et offre une version moombah qui ravira les fans du genre.
ALTAZER se charge quand à lui de "Step Back" et décline le morceau dans une version dubstep des plus énergique."
K12 - Rock This/Step Back EP OUT NOW by Noise Dealerz
Pour obtenir cet Ep, rendez-vous sur Beatports : http://www.beatport.com/release/rock-this-step-back-ep/872869 !