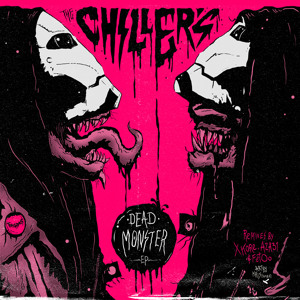 The Dead Monster c'est le nouvel EP Drumstep/Dubstep de
The Chillers
sortie sur
Trashbags
, et autant dire que c'est vraiment frais !
Ce qui vous attends la dedans ?
4 original mix et 3 remix par Xkore, Aza3l et FetOo, le tout formant un EP vraiment excellent !
Pour le Free DL, Rendez-vous sur le lien suivant :
http://www.trashbags.net.au/free-releases/dead-monster-ep/
Enjoy !
The chillers :
"Thibault Bunel et Ruben Navarro, sont, derrière leurs masque war machine, The Chillers, un jeune duo Bordelais qui distille un son sans concession ni frontière entre électro, dubstep et drumstep. L'un est DJ, compositeur et guitariste influencé par une culture Rock/Punk, l'autre pianiste depuis son enfance, a enchaîné une formation classique d'abord au Conservatoire de musique de Bordeaux puis l'école de Musique « St Bruno », cette rencontre de deux univers différents donne un son agressif, dansant mais mélodieux.
The Chillers sortent leurs premiers free EP sur Trashbags, quatre originaux complétés par une série de remix assurés par l'anglais Xkore dernièrement plébiscité par UKF mais aussi par les lyonnais Azael et le toulousain Feetoo, un EP voué à détruire les dancefloor.
Ils continuent sur leur lancée avec de nouvelles collaborations et plusieurs remix à sortir courant de l'année 2012 sur le label Noise Dealerz, après avoir détruit les dancefloor espagnols et français et après avoir été playlistés par des artistes comme Figure, attendez vous à les retrouver prochainement dans vos clubs."
Dead Monster Free EP (Trashbags)
by
The Chillers